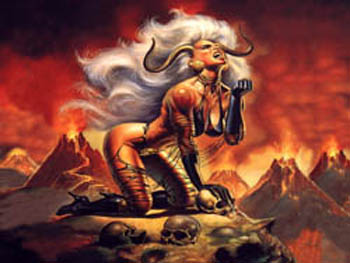 DEMON EMPRESS OF PURGATORY
Click HERE to download

Click
to download Windows 7 theme
From the fiery depths, from the bottomless abyss
Rises such a cacophony,
A scream to pierce through the soul, a wail to chill your bones,
A discordant depraved symphony.
In the pit of purgatory resides the Queen,
The Devil's own Demon Empress,
She is torture and pain, over Hell she does reign,
Your soul she wants to possess.
Wallpaper in 1024, 1280, and 1680 sizes, 3D icons, cursors, XP bootscreen, and stereo sounds. Matching screensaver and Winamp skin available.