The Rifleman, 1958-63 about Lucas McCain, a widower raising his son, Mark on a ranch near North Fork, New Mexico in the late 1860s. The Marshall of North Fork has a difficult time handling the weekly bad guys, and Lucas must repeatedly get out his Winchester Rifle to protect himself, his son, and his neighbours.

Two themes in one with two different wallpapers in 1024 and 800 sizes, icons, cursors, font, startup, wait and shutdown screens with logo installer, sounds and some extra sounds.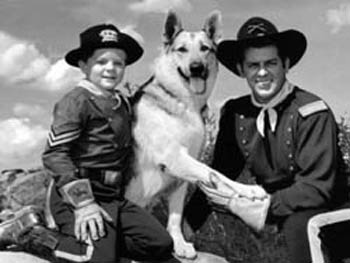 RIN TIN TIN
Click HERE to download

Click
to download Windows 7 theme
When you see Corporal Rusty,
His dog is always there,
And Rin Tin Tin will always fight for him
No matter when or where.
Yo-o Rinty, yo-o Rinty, pals through thick and thin,
From all the tales of the west, we'll remember best,
Corporal Rusty and Private Rin Tin Tin.
Wallpaper in 1024, 1280, and 1680 sizes, icons, cursors, XP bootscreen, and stereo sounds. Matching screensaver and Winamp skin available.