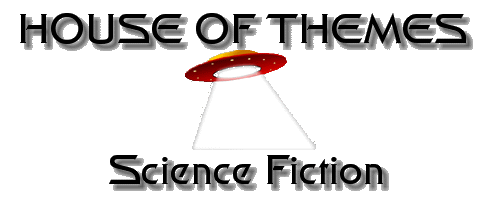 1 | 2 | 3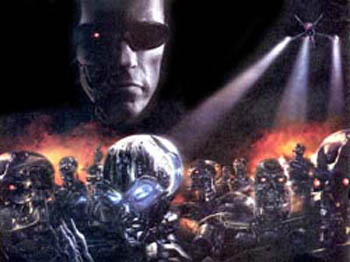 TERMINATOR III-RISE OF THE MACHINES
Click HERE to download
A decade has passed since John Connor helped Judgement Day and saved mankind from mass destruction. Connor and the Terminator must triumph over the technologically superior T-X and forestall the looming threat of Judgement Day.

Wallpaper in 1024 and 800 sizes, icons, cursors, font, startup, wait and shutdown screens with logo installer, stereo sounds and some extra sounds.
THE TIME MACHINE
Click HERE to download
Time traveller, George journeys into the future to the year 802,701 and learns to his dismay that humankind has forgotten all that it has learned through the centuries. Based on the book by H.G. Wells. Stay above ground with the Eloi and watch out for the Morlocks.

A unique theme which includes all standard theme elements as well as startup screen, font and extra sounds.
THEM
Click HERE to download
That old cinematic devil, the A-bomb, has spawned a colony of giant, monstrous, radiation-mutated, murderous ants bent on destroying humanity in this classic 1954 movie. Can our heroes save the world from THEM?

Wallpaper, original icons, 2 ani cursors and 12 static cursors, startup screen and sounds from the movie.
TRON
Click HERE to download
Greetings Programs. Kevin Flynn metamorphoses into a video-game character, and is sent to the game grid to be de-rezzed by his antagonist, Ed Dillinger.Get on your light cycle and let's go!
All standard theme files plus startup screen, fonts and extra sounds are included.
WAR OF THE WORLDS
Click HERE to download
Click
to download Windows 7 theme
Invading Martians utilize huge, mushroomlike flying ships, equipped with heat rays, to pursue the helpless earthlings. In the end, the Martians are defeated not by science or the military, but by bacteria germs, or to quote H.G. Wells, "the humblest things that God in his wisdom has put upon the earth." Just sneeze on those pesky Martians.
Wallpaper, unique cursors, icons, sounds, startup screen and extra sounds.

BACK