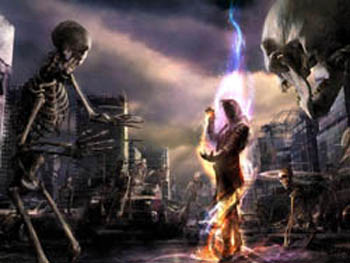 SPIRIT OF THE DEAD
Click HERE to download

Click
to download Windows 7 theme
On Halloween Eve there are atrocious things
That will fill you with such great dread,
The goblins and ghosts, and ghouls and demons,
And the Great Spirit of the Dead!
So if by chance you happen upon
The Spirit of the Dead,
Don't linger, make haste or you may find
That you just might lose your head!
Theme creation by Charo.Wallpaper in 1024, 1280, and 1680 sizes, icons, cursors, XP bootscreen, and stereo sounds. Matching screensaver available.