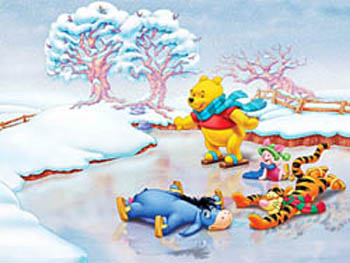 SKATING IN HUNDRED ACRE WOOD
Click HERE to download

Click
to download Windows 7 theme
It's winter time and lots to do,
There's really no point in waiting,
For everyone in Hundred Acre Wood,
They're trying their hand at skating.
It seems that everyone has fallen down,
Except for good ol' Pooh,
Which goes to show that if you really try,
There's nothing you can't do.
Wallpaper in 1024, 1280, and 1680 sizes, 3D icons, cursors, XP bootscreen, and stereo sounds. Matching screensaver and Winamp skin available.